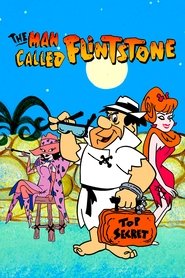 The Man Called Flintstone (1966)
In this feature-length film based on the "Flintstones" TV show, secret agent Rock Slag is injured during a chase in Bedrock. Slag's chief decides to replace the injured Slag with Fred Flintstone, who just happens to look like him. The trip takes Fred to Paris and Rome, which is good for Wilma, Barney, and Betty-but can Fred foil the mysterious Green Goose's evil plan for a destructive missile without letting his wife and friends in on his secret?
The Man Called Flintstone is a 1966 American animated comedy film produced by Hanna-Barbera Productions and released by Columbia Pictures. It was the second Hanna-Barbera feature, after Hey There, It's Yogi Bear! (1964).[1] The film is a theatrical spin-offof the 1960-66 television series, The Flintstones, and is a swan song (series finale) of the show, made immediately following the end of production on the series. The working title of the film was That Man Flintstone,[2] with the film poster featuring Fred Flintstone in the same pose of the Bob Peak poster for Our Man Flint. The film is a parody of the James Bond films.
Duration: 89 min
Quality: HD
Release: 1966