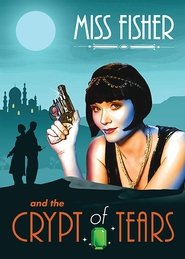 Miss Fisher & the Crypt of Tears (2020)
The theatrical movie spin-off of the ABC's Miss Fisher's Murder Mysteries will follow Essie Davis' private detective as she embarks on a global adventure to find missing treasure, solve murders and break aviation records…
After freeing a young Bedouin girl from her unjust imprisonment in Jerusalem, Phryne Fisher begins to unravel a decade-old mystery concerning priceless emeralds, ancient curses and the truth behind the suspicious disappearance of Shirin's forgotten tribe.
Miss Fisher and the Crypt of Tears is an upcoming Australian mystery adventure film directed by Tony Tilse and starring Essie Davis as Phryne Fisher. It is based on the Miss Fisher's Murder Mysteries television series and the series of Phryne Fisher novels written by Kerry Greenwood.
A stand-alone action-adventure feature film, Miss Fisher and the Crypt of Tears will pick up the story from the end of the third series. It began production in October 2018 and will star Essie Davis, Nathan Page, and other members of the original television series, along with new guest stars Rupert Penry-Jones, Daniel Lapaine and Jacqueline McKenzie.[1] The film is budgeted at $8 million and was be directed by Tony Tilse.[4] It wrapped production in late November, 2018.[5]
Since 2016, there had been speculation on the possibility that the television series would be made into a feature film. In May 2016, Essie Davis acknowledged interest in playing Miss Fisher in a film. "[We're] just working out the ideas of how to make it bigger and better and more fabulous than the TV show," she said.[6] Later that year, it was revealed that plans were afoot to produce a trilogy of Phryne Fisher films.[7]
Duration:
Quality: HD
Release: 2020