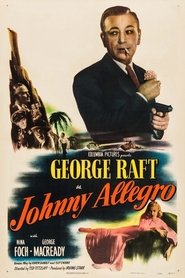 Johnny Allegro (1949)
Treasury Department officials recruit a florist (Raft) to lead them to a wanted criminal (Macready); but once he gets too close, he finds he's the hunted.
Johnny Allegro
 is a black and white 1949 American 
film noir
, starring 
George Raft
, 
Nina Foch
, 
Will Geer
, and 
George Macready
. An ex-gangster (Raft) working as a federal agent runs afoul of a crime lord (Macready) who enjoys hunting humans for sport. The picture was directed by 
Ted Tetzlaff
 and produced by Columbia Pictures.
Duration: 81 min
Quality: HD
Release: 1949