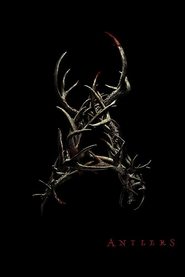 Antlers (2020)
In an isolated Oregon town, a middle-school teacher and her sheriff brother become embroiled with her enigmatic student whose dark secrets lead to terrifying encounters with a legendary ancestral creature who came before them.
Antlers is an supernatural horror film directed by Scott Cooper and starring Keri Russell, Jesse Plemons, Jeremy T. Thomas, Graham Greene, Scott Haze, Rory Cochrane, and Amy Madigan. It follows a schoolteacher and her police officer brother in a small Oregon town, where they become convinced one of her students is concealing a supernatural creature. The screenplay, written by C. Henry Chaisson, Nick Antosca, and Cooper, was adapted from Antosca's short story "The Quiet Boy", originally published in Guernica magazine in January 2019.[1]
The film was originally scheduled for U.S. theatrical release on April 17, 2020, but was postponed due to the COVID-19 pandemic.
Duration: N/A
Quality: HD
Release: 2020